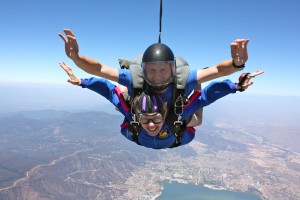 Tuesday, July 17th, I achieved one of my goals that I have been thinking about, dreaming about, imagining, and reading up on for several years. It all started yesterday, a day like any ordinary day, when I visited with my friend Andrea on the telephone. It was an inspiring conversation that left me on tiptoes with enthusiasm after we listened to the song "Ride the Wind" that captivated her.  After our telephone conversation I began to remember my desire to skydive and to "ride the winds" free like an eagle. The idea was alive and this day I spontaneously followed my inner impulse to "do it." Almost instantly the pieces fit together: the appointment was scheduled for the next day (usually SKYDIVE Elsinore is closed on Tuesdays!!); a friend was available to go with me on short notice; and the lunch visit for Tuesday turned out to be for the next week.
How did this happen so quickly after two years of dreaming? ~ on this very day? It happened partly because I am flexible and willing to follow the stirring in my soul and spirit and run after my dream. Of course, as you already may have guessed,  the weather promised to be 'skydive friendly' and my 'mad money" envelope had grown 'fat enough' to support this 'out of the box' adventure, gas, and funds to treat my friend to lunch.
So, this morning  in faith my friend and I drove to Lake Elsinore, CA where Tiffani and Danielle and Shamma helped with the office details, information video, and paper signing of necessary releases. Then handsome Foti, my Italian instructor and tandem person, suited me up with a bright blue outfit and a cute purple and black hat and, of course, an altimeter on my wrist to keep track of the altitude as we plummeted at 120 mph in free fall from the plane followed by the parachute trip to "terra frima." Additionally, if you want to know how much does a parachute cost, you can check this article for more info.
At about 11:15 a.m. my delightful videographer, Andy, began to interview me and record the story of my very first jump.  Foti and I practiced getting out of the aircraft and we then boarded the plane with 10 other  jumpers and instructors.  We flew 15 minutes up into  the clear blue sky until we reached 12,000 feet altitude. At the appointed time Foti and I, securely strapped together in tandem prepared to jump.  "Foti, where ever you go, I will go. I'm sticking with you."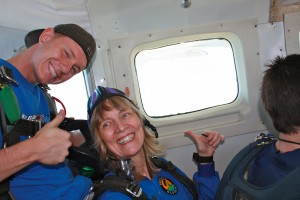 We carefully approached the door of the Cessna aircraft and at the "point of no return" plummeted into mid air in the middle of nowhere … just air space all around us to soar at 120 mph. During the free fall the strong cool air smacked me in the face and ears, the wind rushed at me and then past me ~ or maybe it was Foti and I who rushed out of the plane and smacked into the air. In a fun way we tumbled and circled down through the atmosphere. A mini stabilizer deployed to make the free fall less bumpy.  I am at a loss of words to describe those feelings during the first minute of free fall.  I stretched out my arms like birds wings and waved at Andy as he plummeted with us and took pictures as we soared in the bright blue cloudless sky.  I kept my knees bent and my feet up between between Foti's legs. Lake Elsinore looked spectacular below and the brown patchwork boundaries of the town with irregular shapes of green grass here and there decorated the earth.
We fell to 5,000 feet and then with a jarring thrust the parachute released and jerked us to an upright sitting position and transitioned us to a slower float towards earth and the opportunity to 'catch our breath' and do a few spirals. This quieter pace under the blue and white parachute made it easy to look around and enjoy the beauty of creation. Foti checked "Are you OK?" after the jolt of the parachute release. "Yes" I ecstatically responded  grinning ear to ear.  I wanted to take in all of this experience to the fullest ~  this moment and adventure like none other. According to plan, we landed with our legs straight out and up enabling us to slide in smoothly on our bottoms.
Sitting on the ground with the parachute deflating, the rush of adrenaline and light-headedness surfaced. Standing up, at first I felt a little nauseated and a little unsteady…giddy with excitement.  I was bubbling from the inside out … I was VERY happy and grateful to be blessed with this wonderful adventure.  Foti and Andi's personableness and warmth, quality professional work, and fun interactions with me contributed to my feeling safe and relaxed and having the time of my life..  Would I do it again?  Yes… I would love to.
As I reflect, I find it interesting to realize I was not afraid. My telephone visit with Andrea and the song she brought to our time together were a catalyst for my dream resurfacing to"ride the winds."  I sensed this was my day, my moment to fulfill this desire of my heart.  This jump, skydive, is for me a metaphor for what also happens in my daily life as I grow and let go of control, abandon myself to new experiences, and open myself to live wholeheartedly (body-soul-spirit). This is a day of celebration.
So, my brag is: Today I fulfilled my desire, my dream, to jump into the air and fly like bird, soar like an eagle, and open my heart with abandon, nothing held back. Today I did just that and I am filled with gratitude.
What is your brag today? What dreams do you have that you want to fulfill? What desires do you want to step into and make happen. Or, maybe you want to discover the dreams latent within you waiting to be noticed.  I would love to help you discover your dreams and then take steps to fulfill your dreams.  (To see the skydive video:  go to "You Tube"  on the internet and when your arrive at "You Tube"  enter at the top of the page….Nancy Anderson Skydives …click, and the video pops up…enjoy)
Contact me, Dr. Nancy Anderson,  I want to help you discover your dreams and take your next step to achieve your goals. Come visit again "drnancyanderson.com"